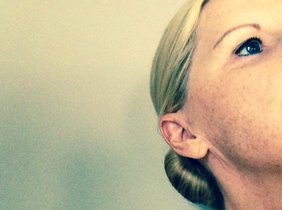 Klei...
Moeder aarde...
Gefascineerd door de plasticiteit van de klei. Het ene moment perfect handelbaar, het andere moment tegenstribbelend...
Altijd gedreven om van de vorm een bewegend geheel te maken. Grenzen aftastend, zoekend naar perfecte emotie in de vorm.
Vanuit een soms eenvoudige potvorm ontstaat een eigen beweging. Bij de opbouw van de sculpturen wordt gebruik gemaakt van
kleirolletjes.
De schoonheid van natuur en architectuur
beïnvloedt altijd de vorm.
De klei lijkt zijn eigen weg te zoeken
tot hij een evenwicht vindt en een dansend
geheel wordt.
De afwerking geeft het werk een mat en
zacht uiterlijk waardoor je het wil aanraken.
Clay...
Mother Earth...
Fascinated by the plasticity of the clay.
Perfectly manageable one moment, resisting the next .
Always driven to turn the shape into a moving whole.
Exploring boundaries, searching for perfect emotion in the form.
A movement of its own arises from a sometimes simple pot shape.
The clay seems to find its own way
until he finds a balance and a dancing
whole.
The finish gives the work a soft feel
appearance that makes you want to touch it .
Color is very important here.